When giving advice to aspiring writers, many famous wordsmiths have said something to the effect of, "if you want to be a writer, start writing." The thing is, when it comes to nabbing a job as a copywriting in a competitive field such as advertising, there is much more to it.
Before they'll hire you, your potential bosses-to-be want to know who you are and how you think, and they want to figure those things out by looking at your portfolio. Whether you're a student or seasoned pro, your book will always be your golden ticket to the next opportunity. So I've put together a guide to help you (or to get you back on track) with building your portfolio. The rest, as they say, is up to you.
Evaluate Yourself. And Be Honest.

Start by taking a good, honest look at your current work. Then spend some time on sites like Modern Copywriter. That's where the bar is set, my friends. How does your work stack up? Your book is your chance to shine, so make sure it reflects your best efforts and gives recruiters and creative directors a sneak peek into the creative talent you hold in your brain. When you look at your work, ask yourself: Is this the best I can do?

If the answer is no… edit. Then add new, better pieces by doing some freelance, pro-bono, or spec work. Choose a brand you love, grab a pen and paper, and start kicking around ideas. Or, if you need some additional motivation, take a class with an instructor whose opinion you value. However you do it, eliminating your weak links and adding new, shiny ideas will refresh and improve your portfolio. Shoot for 5 to 6 campaigns.

Speaking of Ideas...

People may say you have a way with words, but if you want to be a copywriter, you're going to have to show them you're also in the business of ideas. According to Eric Mayse, Senior Writer at BBDO, cool executions are awesome and a great way to catch the eye of a recruiter, but once they dive a little deeper into your book, they better find a brilliant idea. No one is going to hire you just to make cool shit. Your job will be to come up with great ideas that provide value for your client and reflect strong conceptual thinking.

Don't Be One Note.

Whether you're just getting started out or looking for your next job, your portfolio needs to show some variety. Mix it up. Write in different voices for a variety of brands. Once you're the real deal, you won't always be writing for the same clients. And, even if you are, you (hopefully) won't always be writing the same types of projects. So, make sure you're not showing just print or just radio or just outdoor. And of course, you should definitely include digital work for the web and social media.

More than that, when you're making new work, challenge yourself to think beyond what you're seeing in the industry today. Art Boonklan, a seasoned Creative Director, explains, "Agencies and clients are looking for innovative things that have never been done before." In his experience working on clients like PNC Bank, Microsoft, and Tylenol, he has created programs, events, and even games for brands. Think about what'd you like to see in the world, and make it.

If you're a student jamming on spec work, you are only limited by your imagination and your ability to bring your ideas to life. Take advantage of that and have fun. Once you have a great idea, think about where it can live. What other media is possible? Roll out your ideas. Agencies, studios, and businesses will be looking to see that you come up with ideas that can expand a brand. Show them you're not a one-trick pony and your ideas aren't either.

Aim for "Wow!"

Designer Milton Glaser said, "There are three responses to a piece of design – yes, no, and wow! Wow is the one I aim for." In the same way, make sure your book wows. It should say, "Here's what I'm capable of doing," in a way that makes a recruiter or creative director pick up the phone and get things going.

To do that, you need great copy and great ideas, but your projects need to look great too. Team up with a designer or art director to bring your work to life.

Eyes on the Prize.

While you're doing all this work on your portfolio, keep your goals in mind. What do you want? Where do you want to land? What kind of writer do you want to be? Your book should reflect the job you want and the companies you want to work for.

Do your research. Stalk your favorite agencies or brands online. Check out their websites, social channels, anything you can get your hands on. Then, make sure you show work with similar clients facing similar challenges. Show them you can do what they do, and it'll be much easier to land an interview.

Ask for Honesty.

Once you're in the interview, get as much feedback as you can. Put reviewers on the spot and ask them to give you completely honest advice. You can go on for months thinking your work is good but never land a job. But if you hear the truth, you can make necessary changes, and then go back and show off the improvements. And, let's be real, since most people won't take the time to listen to feedback and make changes, you'll stand out when you do.
Keep Your Pen Down.
Here's the thing, a portfolio is always a work in progress. It's easy to feel like things are moving slowly and that you'll never get where to want to be. Remember, it takes time to update or create new work. Don't get discouraged. Keep writing, keep creating. Before you know it, you'll be landing interviews and job offers, and all of your hard work will pay off.
All you have to do is start.
---
A SPECIAL OFFER FOR YOU.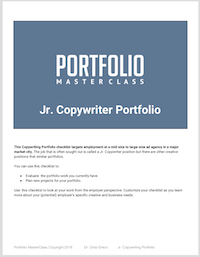 I've created a Portfolio Building Tool, just for aspiring Copywriters, that details the basic pieces that agencies look for and helps you compare your current portfolio. CLICK HERE FOR THE LINK TO DOWNLOAD.
Our Copywriting Portfolio Checklist is just one many tools offered in the self-directed courses at Portfolio MasterClass. Every course offers a 30-day money back guarantee, so you can check one out without risk.